Transition Y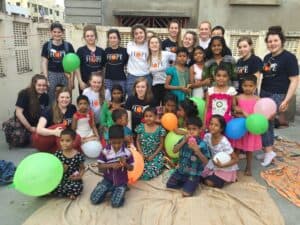 ear students Sarah Healy, Rachel O'Riordan, Alannah Drumm, Eadaoin O'Keffee and Heather Barrett accompanied by teacher Regina Brett, travelled to India over Easter with HOPE Foundation. The Hope Foundation is a registered Irish Charity working to save the street and slum children of Kolkata (Calcutta) from lives of pain, abuse and poverty.
Exposed to horrendous physical and sexual abuses on the streets, those who survive are left to fend for themselves, hungry, with no promise of a safe future. These children are some of the most disadvantaged children of our time. HOPE works to change their lives, to restore childhoods and give children the chance to create better futures for themselves.
HOPE funds and operates over 60 projects thanks to donors, sponsors, supporters and fundraisers. HOPE reaches out to the most forgotten; offering protection and shelter, healthcare, nutrition, education, rehabilitation and a family for life. The five Scoil Mhuire Transition year students and their teacher travelled to India to work with the HOPE Foundation's projects in Kolkata.
In order to be selected, the students had to submit a letter of application and undergo an interview.  After selection they had the daunting task of raising €3,100 each for the HOPE Foundation.  The money raised will be used to fund projects working with the street and slum children of Kolkata. Over 250,000 children are forced to live on the streets of Kolkata and around five million people exist in horrific conditions in slums.
The students visited these children, worked with the projects and bore witness to these horrific conditions. Ms Brett and the students would like to thank everyone who supported their fundraisers over the last few months and made this once in a lifetime trip possible.