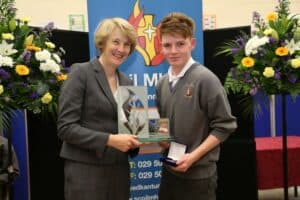 The achievements of students of Scoil Mhuire Mercy Secondary School Kanturk were recognised at the 2015 Awards Ceremony on Friday October 23rd.
Deputy Principal Denis Keating acted as MC as the afternoon's proceedings began with a song by Green Day performed by the school choir under the direction of music teacher Mary Farrell.
The special guest for the occasion was Dr. Marie Griffin CEO of CEIST.
Addressing the award recipients, the student body, school staff and guests, Dr. Griffin said it was both an honour and a pleasure to be invited to speak at and present the Scoil Mhuire awards. Before presenting the awards Dr. Griffin congratulated the award winners, parents and staff on their wonderful talents and achievements.
The introductions and citations were read by Ms Caitriona McNamara and Mr. Rickie O'Keeffe and following these presentations School Principal Ms Miriam Downey addressed those present. She congratulated all the winners who have contributed in some remarkable way in their chosen award category. She said 'This is our way of publicly acknowledging this contribution, of saying that while we are proud of all of our students, you earn a particular accolade. Success does not come easily, but demonstrates what can be achieved by effort, determination and self-belief'. Ms Downey thanked all the musicians, singers and performers under the guidance of Mrs. Farrell for the afternoon's entertainment, special guest Dr. Marie Griffin, MC Mr. Keating and Mr. O'Keeffe and Ms McNamara for reading the citations.
The afternoon's proceedings ended with a performance of 'Tell me it's not true' from the musical Blood Brothers sung by the school choir.
The full list of award winners is as follows:
Senior Boys' Sport Award
Senior Girls' Sports Award
Junior Boys' Sports Award
Junior Girls' Sports Award

Year Awards
Liam O'Brien
Mairead Martin
Michael Buckley
Caitlin Heffernan

Eoin Guiney – 1st Year
Neil O'Connor – 2nd Year,
Sarah Healy – 3rd Year,
Rebecca Eustace – Transition Year
Jessica Kelly – 5th Year
TY Enterprise Award
Marie Murphy (MD of Aerwaves mini-company)
Scoil Mhuire School Spirit Award
Exemplary Attitude Award
Music Award went
Initiative Award
Jeremiah Sheehan
Amy Colgan
Helena Egan
Harry O'Callaghan
Niamh Egan
Ellen Sexton
Arts Award
Bryan O'Connor
Performing Arts Award
Scoil Mhuire's Trad Ensemble
Ruth O'Connor
Eimear Boyce
Marie O'Neill
Lisa Finn
Muireann Vaughan
Cliodhna Martin
Orla Gillespie
Atene Aidukeviciute
Ella O'Rourke
Outstanding Junior
Certificate Award
Ronan Buckley
Muireann Vaughan
Diarmuid O'Mahony
Colm O'Keeffe
Best Junior Cert 2015 Award
Eve O'Shaughnessy who achieved a remarkable 10 A's and a B in Higher Level subjects.
Leaving Cert Subject Awards
Kate Singleton – Biology
Aisling O'Riordan – Technology
Sinead Mullane – Home Economics
Aisling Guiney – Home Economics
Honor O'Flynn – Home Economics
Conor Glavin – English
Siobhan Gillies Geography and Art
Sara Cantillon – Construction Studies
Sinead Mullane – LCVP
Best Leaving Cert Award
Dario Pozza
Leaving Certificate Students who
achieved in excess of 500 points
Eoin Breen
Timmy Murphy
Jordan O'Callaghan
Judith Kofler
Tadhg O'Sullivan
Represented Ireland Awards
Mairead Martin- Golf
Kieran Sexton- Bowling
Marcella O'Connor- Tetrathlon
Hollie O'Sullivan –Taekwondo

Special Achievement Awards
Tadhg O'Sullivan – Fleadh Cheoil winner
Clare Lynn and Ellie Glavin – Wakeboarding
Shauna O'Connor – Kanturk Arts Festival winner
Muireann Vaughan – TG4 Junior Eurovision Finalist
Tomas O'Neill – Hammer at Inter-schools competition
TUSLA Attendance Certificates
Cliodhna Martin, Shauna O'Connor,
Sophie O'Callaghan, Eimear Boyce,
Tadhg Jones, Rachel O'Riordan, Sandra O'Sullivan, Victoria O'Sullivan, Kane Collins, Rachel O'Sullivan and Stephanie O'Connor

CEIST Award
Darren Heffernan
Junior Student of the Year
(Sponsored by Twohig's Supervalu)
Eimear Boyce
Senior Student of the Year
(Sponsored by Aspel's Spar)
Marie O'Connor