Transition Year Students visit Blackrock Castle Observatory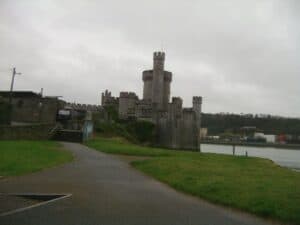 On Friday 26th of February the Transition year students accompanied by their teachers Mrs Barry and Mrs Gillies went to the Observatory at Blackrock Castle for their stellar show tour.
On arrival at the castle students were met by their guide Caoimhin. The tour began by climbing up 86 steps to reach the top of the castle. Students were given a fascinating account of the history of the castle from its origins to the present day. The top of the castle is also home to the observatory telescope as well as weather measuring instruments which 'tell' the telescope when conditions are suitable for making observations.
Students next proceeded to the bottom of the castle where the original gunnery has been preserved. Again an interesting account of the soldier's day in the gunnery was relayed to us by Caoimhin.
The next part of the tour involved the students working at consoles and being guided by researchers trying to save the earth from being hit by a meteorite.
Having saved the earth from impending disaster students entered a dome where recent night time images from the observatory were displayed and explained.
The tour finished with time for self guided exploration of the exhibition area.
This tour was very interesting and educational as it gave students hands on experience of astronomy which they have studied as part of our physics course. The historical aspect of the tour was very informative also.